Archived News & Notes (new content moved to Blog)
June 5, 2015
Most of this past three years I have been working on a middle grade novel, and I'm not done yet...From its beginnings as a picture book idea through 25 + drafts, this book has been my teacher, a lesson in attachment/non-attachment, an accompaniment to dreams and waking life alike. Whether it ever sees the light of day (meaning publication) or not, this has been a joyous adventure for me. While an agent looked at the book (she didn't take me on as a client but provided valuable feedback which I intend to get back to when my current project is done), I started another book and just completed a readable draft which I've sent to a writer friend to critique.
In between these projects, there's been life--the other parts of it. Family, community, travel. I'm exploring the idea of shifting this part of my website to a Blog--but don't quite have the nerve to call it that yet. We'll see what develops.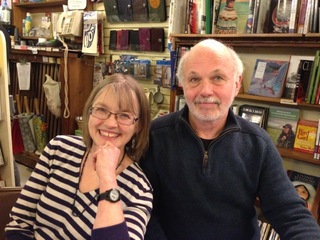 Here Jim and I are at Hearthside Books in Juneau for our first official book signing for Arctic Aesop's Fables: Twelve Retold Tales (Sasquatch Books). Skirt! Magazine just published another of my essays, "Sucker Love." Here's the link: http://skirt.com/essays/sucker-love And The Centrifugal Eye's 5-year anniversary edition just came out and includes my poem "Letting Go" originally published in November 2010. http://www.lulu.com/spotlight/centrifugaleye Pretty nice month!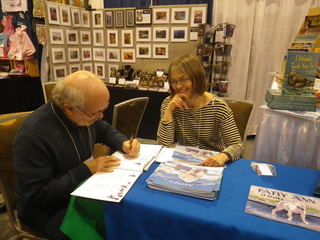 We started the new year with a trip to the Anchorage Gift Show to introduce vendors to our new book, set for February release by Sasquatch/Paws IV. Here we are signing some books at the event.
Book Launch Week! We're in the last week of January and heading toward the first retail book signing for Arctic Aesop's Fables: Twelve Retold Tales. The official release isn't until February 5, but our local bookstore, Hearthside Books, got the okay to do signings this coming weekend. Jim and I will be at the downtown Hearthside Friday evening from 4:30 to 7:00 and at the valley Hearthside from 1:00 to 3:00 on Saturday, February 2. That event will include an art table for kids, reading some of the fables, and balloons.
Wednesday, January 30, Jim and I will appear on KTOO's Juneau Afternoon program to talk about the book and on Friday morning at 8:30 we'll appear on KINY (channel 8) live and again at 11:30 on KJNO (channel 6.30, recorded).
Fun!

My husband Jim and I are excited about the forthcoming release of our collaboration ARCTIC AESOP'S FABLES: Twelve Retold Tales, due out from Sasquatch Books in February 2013.
May 2012
Received word that my poem "Like An Amaryllis" will be published in Cirque Magazine. Makes me happy!
Jim's hard at work on the illustrations for "Arctic Aesop's Fables" - our book under contract with Sasquatch/Paws IV. Time to start thinking about publicity.
Next week, Jim and I are guests on a United Way fundraising boat ride to Orca Point Lodge where we'll enjoy a salmon dinner, companionship, and the opportunity to talk with people about literacy, our writing and illustrating lives, and hear other people's thoughts about how to encourage developing readers. Should be fun -- and maybe we'll even see whales.
February 2012 The year is off to a great start. UNDERWIRED published "A Kinder, Gentler January" and I finished the picture book manuscript I'd been working and sent it out to Sasquatch Books, a regional publisher based in Seattle. TA-DA! I heard back February 1 that "Arctic Aesop's Fables: Twelve Retold Tales" is a go. It is scheduled for publication in the spring of 2013. They have contracted with my husband Jim Fowler to do the illustrations -- so he's basically chained to the basement studio for the next few months instead of traveling to do his landscape paintings. Last year Sasquatch published the most recent book Jim has illustrated - PATSY ANN OF ALASKA by Tricia Brown. For all you dog lovers out there, it's the true story of a deaf dog who greeted the steamships arriving into Juneau, Alaska, in the 30's and 40's.
2011
In the spring, WINDFALL: A JOURAL OF POETRY OF PLACE published my poem "Early Morning Hunt: Juneau 1962." It's a poem I'd written for my dad and I was very grateful to see it in print. December - My essay "No Joke" appeared in SKIRT! MAGAZINE The URL is on the "Quick Links" list. My essay "A Kinder, Gentler January" will appear in UNDERWIRED in January.
THE CHRISTIAN SCIENCE MONITOR has contracted with me for another essay, one I've titled "Return to Heaven." I'm eager to see it in print. Meanwhile, I'm shopping several recently completed picture book texts, a couple essays and poems. It's been a busy several months.
2010
Two pieces dealing with mother/ daughter letting go came out this year. THE CENTRIFUGAL EYE published "Letting Go," a poem, along with a short interview, and UNDERWIRED, a Kentucky women's magazine, published "Watch Me Fly!" Done a lot of work in and out of "work-for-steady pay" commitments, but am appreciating right now being able to devote a fuller heart to my writing.
2009
Check out THE CHRISTIAN SCIENCE MONITOR January 28, 2009, issue. They published another of my essays. They've been great to deal with. Different title, again. Mine was "Thank you, Alice." Theirs is "A Lesson In A Neighbor's Kindness." THE BINNACLE (from one of the University of Maine campuses) published an "ultra-short" prose piece late this year.
11/ 28/ 08
This summer, THE CHRISTIAN SCIENCE MONITOR published another of my essays. I called it "Message Received." They called it "Welcome Wake-up Call."
5/ 25/ 08
After many months of work, I'm nearing the finish of at least THIS draft of the middle grade novel I started a couple years ago. It's been an adventure, a challenge, and man, have I worked hard! I suspect there's more work to come, but for now, I see a little break in sight.
Last month, THE CHRISTIAN SCIENCE MONITOR accepted another essay, so I look forward to its appearance, and in the same month, the University of Alaska Southeast published its literary journal, TIDAL ECHOES, with a poem and an essay of mine. As I learn more about this website publication business, I plan to include the text of some of my poems and essays. Stay tuned!
11/ 07
Some of you know that I enjoy writing poetry, essays, and adult fiction as well as children's books. This past year, THE CHRISTIAN SCIENCE MONITOR published one of my poems, "Identity Crisis" and one of my essays, which I had called "Practicing Delight" but which they called "Anticipating Delight," both of which you can read on their website, http:/ / www.csmonitor.com. Just put "Susi Gregg Fowler" in their "Search" box. Needless to say, I was thrilled to be included in this fine newspaper!
I also had a poem, "Complaints," selected by Alaska's Writer Laureate (we don't have a "poet laureate" per se) for last year's National Poetry Month calendar which was posted on the website of the Alaska State Council on the Arts, and this fall, my poem "After the Stroke" will be included in a new book, ILLNESS AND GRACE, TERROR AND TRANSFORMATION, published by Wising Up Press. I've been enjoying dipping into the adult world a little.
But of course, I'm still working on new children's books -- picture books and even novels. I recently returned from a splendid novel revision workshop sponsored by the SCBWI Western Washington group. Darcy Pattison (http:/ / www.darcypattison.com) put twenty-four of us through our paces, as we spent a weekend learning new tools to help us look at our own novel drafts and those of others in our four-person groups. We covered so much, I think my brain is still exploding! I'm just now getting back to work on my middle-grade novel with the hope that I'll be able to send it out sometime this winter.
HEALING STORIES: PICTURE BOOKS FOR THE BIG AND SMALL CHANGES IN A CHILD'S LIFE by Dr. Jacqueline Golding includes I'LL SEE YOU WHEN THE MOON IS FULL in her bibliography of books for children facing change. She has been traveling the country, speaking about her book and her thoughts about helping children cope with change. Check it out!
May your days be good ones.
susi